After two seasons at Jermyn Street London, it was time to unleash "Malcolm Marvelle – Master of Mystery (Richard Day) and the lovely Rita (Naomi Paxton)" onto the Edinburgh Fringe. And they fitted in rather well with many other bizarre acts that were there. With no sponsorship, funds were limited and, being newcomers, getting a central venue for just one week at a 10pm timeslot, during the peak of the festival, with a proscenium ended stage that was large enough to accomodate the bigger illusions wasn't easy. And to top it all, I'd never been a producer before so was learning on the spot. But we did it.
The venue, a suitably gothic St Augustines on George Street, had seating for 120 people. On our best day we had just under 40. On our worst, a family of 3. Whilst I expected to loose money papering the house, it could easily have been a lot worse. I guess we owe a lot of it to luck, but there was much rallying and leafleting to be done too.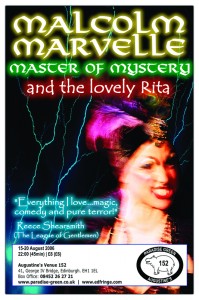 Publicity helped. Naomi not only plugged the show in character with an interview on Festival Radio, she also secured a guest spot for the couple on "The Neil & Christine Hamilton Show" although, owing to full capacity, I wasn't allowed in to see it! (Gutted). However, I did meet the couple on the street a few days later and when I mentioned I was the writer/director, they gushed praise for M&R, which was some consolation. One notorious couple praising another. We also had two 15 minute slots on the street stage though sadly we lost one to the appalling weather. And our poster design came runner-up in the Zebra Awards 2006.
We had many guest magicians in previous seasons at Jermyn Street. My no.1 choice for Edinburgh was Jay Fortune, so I was elated when he agreed. Jay is an amazing magician who has a great natural patter that endears him to any audience, even the diverse ones of Edinburgh. But he was also one of the few magicians "game" to play in Malcolm and Ritas world, which was essential if the show was not to appear too disjointed. He even joked that he was only there "to cover a costume change"! The audiences loved him.
I can see how many can get addicted to the Edinburgh Fringe. For 4 weeks of the year, all the big fish from all the small ponds around the country get together and big each other up. Their enthusiasm and energy in performance is matched by the similar energy they return as audience members. And good old fashioned "word of mouth" is alive and well. My only irk was the growing commercial presence which will inevitably suffocate the younger, newer talent the festival is designed to nurture – principally big name TV comedians who use good fringe venues as open rehearsal rooms before embarking on their No.1 National Tours. Is that really the spirit of the fringe?
Still, if you've ever thought about taking something to the Edinburgh Fringe Festival my advice would be this: Don't think….do!
If you ever saw the show and are feeling nostalgic, here's a selection of some of the music that was used in the project between 2005 – 2007